Where in your everyday life do you have the time and space to deeply connect to yourself, exploring questions, desires, interests and issues around your self, sex and intimacy? Where can you discover your body as a gate into more aliveness, pleasure and meaning? Where can you experiment with new steps towards passion, vulnerability and power; or inquire about Eros as a phenomenon beyond sexuality – the expression of life and spirit in you, others and the world around you?
Authentic Eros provides such a space.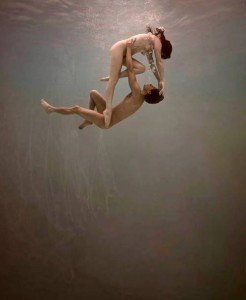 We use breath, movement, sound and humor to wake up the body, becoming more present and alive. We practice and play with presence and different forms of closeness and distance, with touch and being touched. We explore our full expression as sexual beings and identify and work with ways in which we hold ourselves back, due to for example our conditioning, shame, fear of rejection or need for approval.
In this weekend workshop you get the chance to fully express your inner truth about your longings and wishes. Often we don't even admit to ourselves what we really want. Or, we are caught in certain patterns in the realm of sexuality and Eros. In encounters with yourself, another person or the group as a whole we can learn how to connect to our authentic state of being, so we can identify, express and manifest our desires and boundaries from a place of integrity.
In Authentic Eros we provide a safe space where you decide how far you want to take it within the set frame. The degree of nudity, the form of touch and what happens in every encounter is according to your choice.
Through this truthful communication, we create a space where respect meets vulnerability. Surprising insights and transformation, deep satisfaction or simply new ways of sensuous behavior can arise.
If you want to explore your edge, expand your relationship with your sexuality, nourish yourself in a loving environment or simply have great time with yourself and a community of fellow explorers – than this is the right workshop for you.
Using a mixture of solo, partner and group exercises including witnessing, mirroring and self-enquiry, we will cover:
an opportunity to ask yourself good questions about sexuality, intimacy and relationship
getting out of your head and into your body
discovering the pleasure and fulfillment already present in your body
developing greater presence: slowing down so you can properly read and experience the context you are in
welcoming the unknown and dancing with it
distinguishing what is really present from creating a story about it
the courage to express clearly what you feel and what you want
saying "No" and accepting a "No" from another (how do we deal with unfulfilled desires?)
expanding your touch, listening and nonverbal skills
exploring counter scenarios to habits you want to transform
Kai Ehrhardt and Ruby May bring together their wealth of knowledge in a variety of different modalities within Somatics and Conscious Sexuality and look forward to welcoming you to a playful, expansive and nourishing space, where the focus is on permission, rather than pushing. During our journey, the emphasis is on your own self-responsibility and empowerment, and the structures are fluid, depending on our needs as a group.
This workshop is open to the timid and the brave, to all genders, sexual preferences, walks of life and levels of experience, and is equally suitable for those participating alone or with a partner.
Times:
FR: 18:00 – 21:00
SA: 10:00 – 20:00
SO: 10:00 – 17:30
Cost:
Earlybird 175 EUR
Full price 190 EUR
Concession price 160 EUR
Register here
::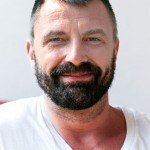 Kai Ehrhardt is a co-founder of the Somatic Academy Berlin, a Middendorf Breath Therapist, Continuum Movement Teacher, bodyworker and group facilitator. He holds the German Heilpraktiker license for psychotherapy. Kai loves to examine and explore the role of a conscious body and its ramifications on Self & health, relationships & communication, sexuality & Eros. Kai holds individual sessions since 1996, has been teaching since 2002 and lives in Berlin and New York City. www.kaiehrhardt.com, www.authentic-eros.com, www.somatische-akademie.de, www.bodyIQ-berlin.com, www.stretch-berlin.com.
::
Ruby May is a British born, Berlin-based self described sexpansionist, whose passion lies in the exploration of Eros as a gateway towards living a more embodied, awakened and fulfilled life. She brings a decade of experience working internationally in the field of Conscious Sexuality as a sacred intimate, sexological bodyworker, Tantric domina and workshop facilitator. Known for her gentle and playful approach, she loves to create spaces where we can have the courage to discover, honour and embody our Truth and expand into deeper intimacy with ourselves and the world around us. www.alchemy-eros.com, www.rEvolution-Elsewhere.com