Women of the Woods. With Philippa Snell & Ruby May. Future dates to be announced.
"Wilderness is not a luxury, but a necessity of the human spirit" – Edward Abbey
Women in the Woods is a weekend retreat, designed for all wildness loving women, to take time out of every day life and draw replenishment and inspiration from the woods.
Led by wild artist and forest school practitioner Philippa Snell, and women's embodiment and empowerment coach Ruby May, the weekend will offer a guided journey into nature connection, sacred ceremony and wild, artistic expression…
Simple guided sensual and juicy nature meditations and gentle restorative forest yoga to ground us in our bodies, awaken our senses and feel our friskiness!
Foraging for materials in the forest to create wild art and bedeck our inner Goddess in wild jewellery (no previous experience or artistic skills necessary!)
Deepening our understanding of plant and animal wisdom through personal nature constellations
Sacred raw cacao campfire ceremony
Wild food foraging
Lots of awareness expanding insights to deepen and transform our understanding of and connection to nature!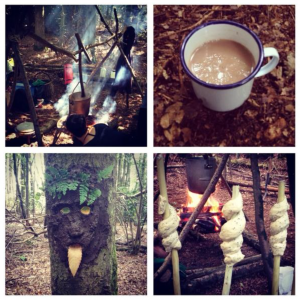 Our home for the weekend will be a beautiful forest in East Sussex, a short train ride away from London and Brighton, with possibilities for bringing your own tent, or renting a luxury bell tent. We have our own private area surrounded by beautiful chestnut, hornbeam, oak, hazel and birch trees, and a very pretty pond for dipping in.
"Trees are sanctuaries. Whoever knows how to speak to them, whoever knows how to listen to them, can learn the truth. They do not preach learning and precepts, they preach, undeterred by particulars, the ancient law of life." – Herman Hesse
The weekend includes a full catering service of delicious and wholesome locally grown, organic food, with the addition of some wild food that we will forage ourselves.
For our Saturday night campfire ritual we'll draw on the sacred plant medicine of ceremonial raw cacao  (Theobroma cacao — "Food of the Gods",)  an extremely gentle plant medicine that can support us depending our connection to life, helping us to open our hearts and often giving powerful insight.
An Indigenous myth tells us whenever the balance between humans and nature becomes threatened, cacao comes from the rainforest to open people's hearts and return the planet to a state of harmony.  In one of my early communications with the Cacao Spirit, She referred to cacao as "The Food for the Shift". – Keith, cacao shaman
Regardless of where we live, whether that's somewhere green or more of an urban jungle, finding ways to feel part of the web of life is integral to our well-being. Women of the Woods is not only an opportunity to feel replenished and revitalised from our weekend together, but to also deepen and transform our connection to, and experience of nature, so that we can then take this awareness back home with us and use it to live in greater balance and fulfilment in every day life.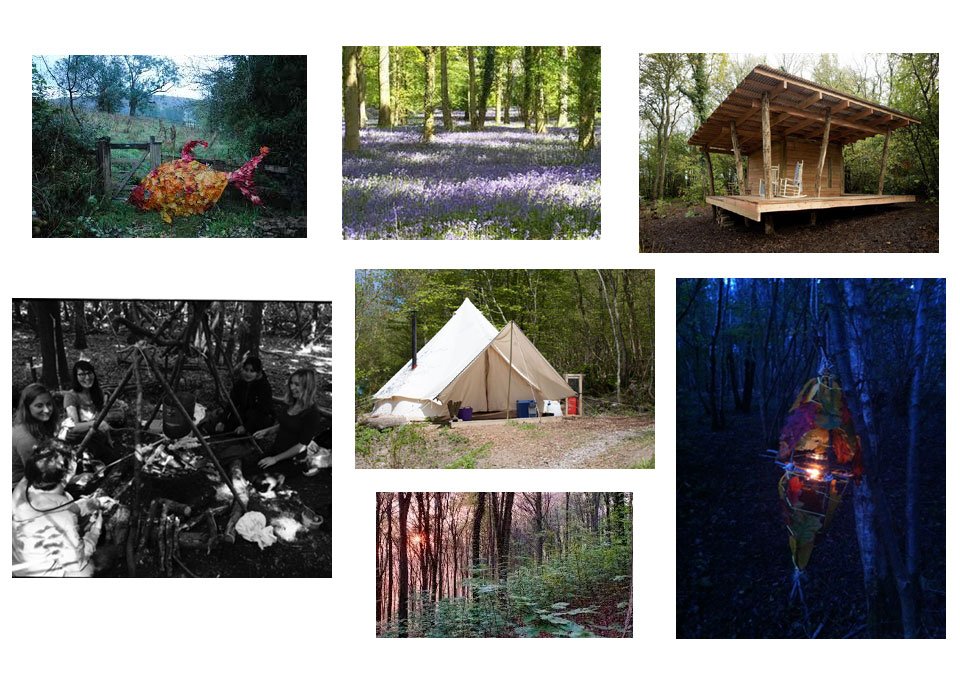 "Highlights – the location, the warmth, the candour, the women, the variety of activity, the possibility, the insights, naked yoga, tree spirits, my elder beads, the singing, the singing, the singing,  It all felt really abundant, rich, extraordinary and right." – Jools, participant.
Whats included and what to bring:
All meals and materials for activities are included. You have the option of bringing your own tent or renting a bell tent (see below)
Please bring:
Bedding
Warm clothes
Rain proof shoes and clothing in case it rains
An object that you find in nature between now and when we meet, for our forest shrine
:::
Location:
Dernwood Farm, East Sussex
Directions here.
:::
Cost:
£190 / £220 / £250 sliding scale depending on what you can afford.
If you would prefer, you can sleep in a bell tent or wooden cabin, provided by Dernwood farm. They have various options and sizes, with prices starting at £200 for the weekend, and you can choose whether to have one for yourself or share with one or two others. Contact them here to arrange accommodation.
"Those who dwell among the beauties and mysteries of the earth are never alone or weary of life." – Rachel Carson.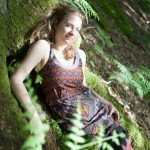 Philippa Snell is a Wild Artist with a background in Theatre, Drama teaching and Forest School. She is passionate about using her woodcraft skills and knowledge of natural materials to create luminous installations and magical, ephemeral sculptures. She runs creative workshops for people of all ages and takes a particular delight in creating giant puppets, lanterns, surreal mud sculptures and wild jewellery. She is also a keen forager and loves to build on her repertoire of campfire gourmet masterpieces.
Philippa has had a lifelong interest in ritual of all kinds and this informs all the creative work she does. She strongly believes that we all have an inherent knowledge of how to create meaning and transformation through ceremony and is excited by this opportunity for women to come together with their unique skills, creativity and humanity to the exciting process of stepping into the unknown.
Ruby May is an edge-dwelling, earth loving, creative visionary whose international workshops and rituals weave her passion for play, embodiment and authenticity with her love for creating magical and transformative spaces. She has studied and explored many paths to healing and expansion, including yoga, tantra, conscious kink, ecosexuality and spiritual ecology, and worked as sexological bodyworker and intimacy coach, before stepping into facilitating groups, full-time.
Ruby believes that our relationship to nature and our own inherent 'wildness' is central to our spiritual and physical well-being and she has a passion for exploring creative ways in which to practise this. Two powerful tools that she feels inspired to share at Women of the Woods, are working with nature constellation, in which we can become channels for earth wisdom, and working with the sacred plant medicine raw cacao, which contains a gentle yet powerful plant spirit, that supports us in creating a deeper connection to our self and our planet.